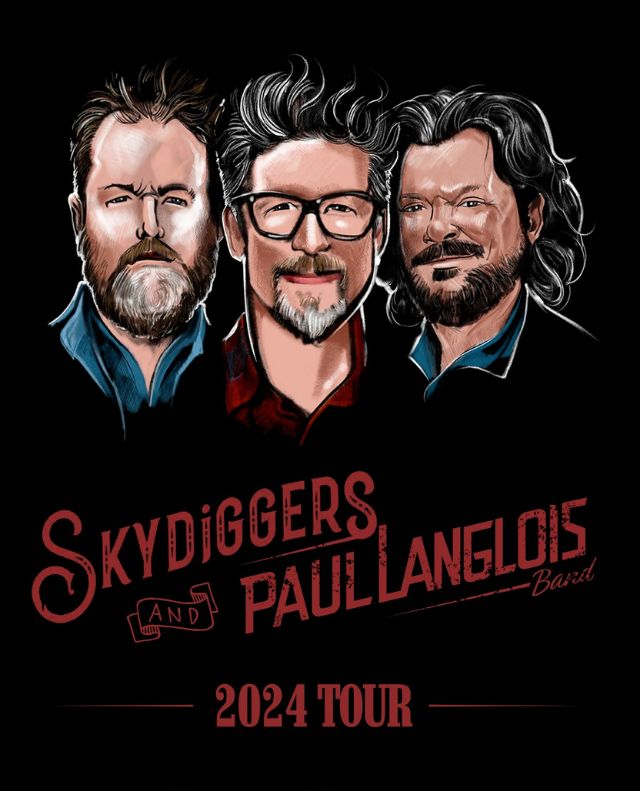 On Stage / Alt Rock
Skydiggers and Paul Langlois Band
Postponed to March 26th
March 26 - 7:30 PM
$46.00 + taxes and fees
Buy Tickets
---
Due to a recent curling injury suffered by Paul Langlois, the upcoming show with Skydiggers at the Empire Theatre on November 30 is rescheduled to MARCH 26.

"I love curling! Sweeping, yelling "hurry" at my teammates, and getting the rock on the button. What I don't like is falling on the ice…" shares Paul. "I am so bummed to have to postpone these upcoming shows with my dear pals, the Skydiggers.
So hang on to those tickets, and we'll see you in 2024!"
Thank you for being so understanding.
---
To tell the story of Skydiggers is to tell the story of a thriving musical collaboration that was born in friendship and has abided with trust. Over the course of 15 studio albums and countless miles on the road, Skydiggers have grown from enthusiastic youngsters into husbands, fathers, and mentors. And while band members have changed over the decades, Josh Finlayson and Andy Maize remain its beating heart. With new collaborators bringing their unique musical histories into the circle, the sound of Skydiggers continues to evolve.
Their newest work, Hide Your Light, Bide Your Time, was recorded over a three-month span in 2022 at Baker Studios in Saanich, British Columbia. To be released as two six song collections on Latent Recordings, Hide Your Light launched on June 9, 2023 and Bide Your Time will be available in full on November 1, 2023.
When Paul Langlois was asked to play the closing ceremonies of the Canada Summer Games in Niagara Falls in August of 2022, the last thing on his mind was making a new record. A few months later, however, Guess What, The Paul Langlois Band's debut on Pheromone Recordings was in the can, and Langlois began a new and exciting phase of his musical journey.
Across the ten songs on Guess What, Langlois finds himself ruminating on time – not just on how it passes, but the moments that stand still and stand out, from the highs of finding the 'Will To Fight' and just rocking out on 'Peels Is Sleep Backwards' to the lows of finding yourself on the receiving end of 'Desperation Calling.' And perhaps nowhere more poignantly on the plaintive and raw 'Don't Leave Me, Brother' a revealing take on loss that, while rooted in Gord Downie's untimely passing, is sure to be a comfort to anyone suffering grief of any kind.