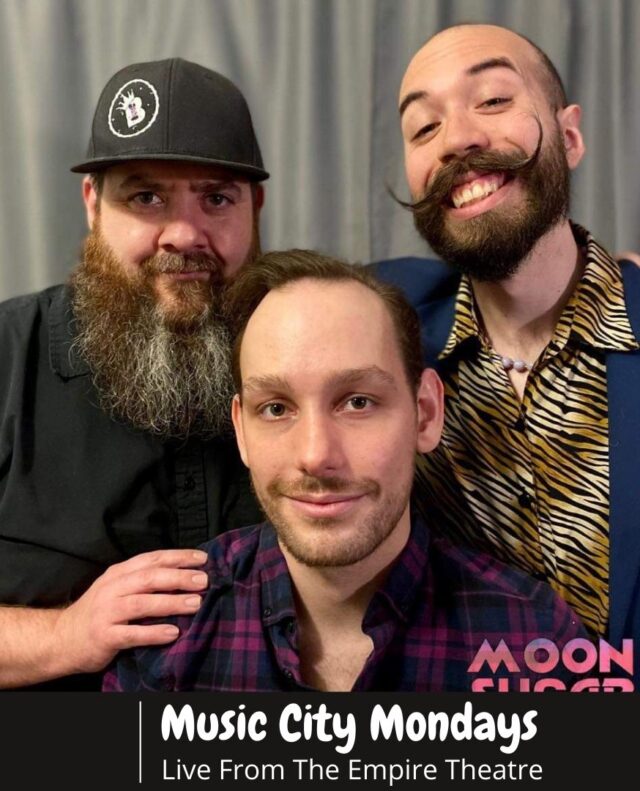 On Stage / Live Stream
Music City Monday – Moon Sugar
REPLAY Live Streaming until November 23rd at 7 p.m.
November 23 - 6:00 PM
Watch Stream
---
You may also view on:
YouTube: 
or
Facebook Live: 
---
While this show is free to watch – we are trying to support the musicians, crews and venue that have been hit so hard during the last 8 months – So there is a tip jar below with a few ways for you to help out if you are able.
All donations greatly appreciated.
Supporting Musicians, Crews, Venue
If You Are Able, Hit The TIP JAR:
Canada/US/International
Canada – E-Transfer
EmpireTips@TheEmpireTheatre.com
By Phone:
During show or 11am-1pm Mon-Fri
1-613-969-0099 ext. 1
---
Bonded together in the brotherhood of rock n roll, Moon Sugar is a three-headed party beast with one thing in mind….dancing. Holding all of the parts together, on drums is Pappa D, the bearded one himself. With as many dance moves as bass moves the smiling one, Uncle Logan has proven time and time again his proficiency in the art of a good time. Finally, the mad man behind the beast, Gordo will keep you on the edge of your seat while he paints sonic landscapes both beautiful, and ferocious. More than just mere mortal musicians, Moon Sugar are good time specialists.