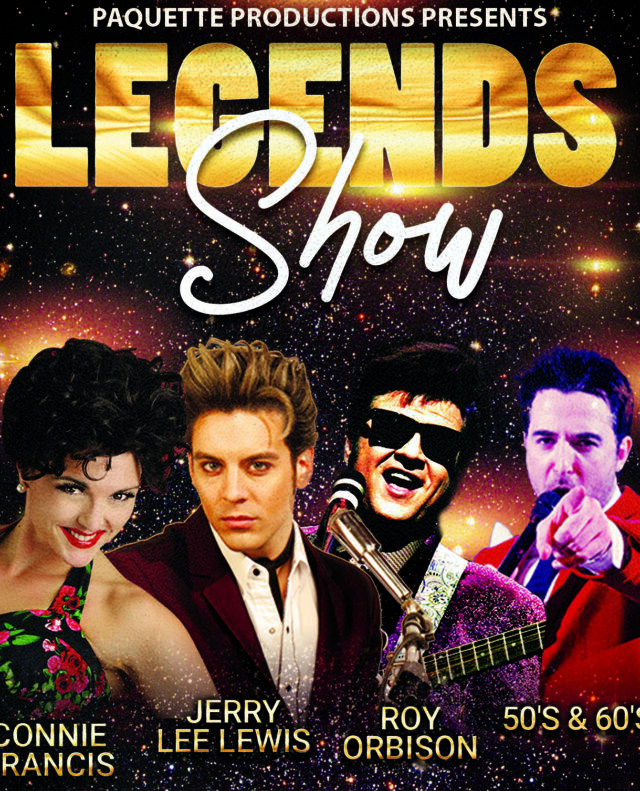 On Stage / Rock and Roll
Legends Show
NEW DATE! Tuesday, April 26th, 2022
April 26 - 7:00 PM
RE-SCHEDULED: NEW DATE - Tuesday, April 26th, 2022
Buy Tickets
---
Due to the continuing restrictions of COVID-19, Paquette Productions has re-scheduled the LEGENDS SHOW to TUESDAY, APRIL 26, 2022.
Existing tickets & seat locations will be honoured for the new date, no further action is required.
Should you not be able to attend the new date, a refund will be offered.  Please contact the empire theatre box office 613-969-0099 ext. 1, by phone only, Monday to Friday 11 am to 1 pm..
REFUNDS WILL BE ISSUED UNTIL MARCH 23, 2021 ONLY.
Thank you for your understanding, as the empire strives to meet the challenges created during this time, keeping the health, safety and care of our community at the forefront.
---
LEGENDS SHOW – Tributes to Roy, Connie, Jerry Lee, and Elvis!
ONE NIGHT ONLY! "Legends Show" brings you some of North America's most outstanding performers live on stage. Accompanied by the "Rockin' Royals Band", this show will feature the most incredible Tributes to Roy Obrison (Jesse Aron), Connie Francis (Amberley Beatty), Jerry Lee Lewis (Lance Lipinsky), and Elvis Presley (Pete Paquette).
Roy Orbison: Jesse Aron, who hails from the state of Wisconsin, is recognized as one of USA's top Roy Orbison tribute performers. With his effortless voice and uncanny resemblance to Roy, Jesse will take you back in time with such hits as "Crying", "Pretty Woman", "Only The Lonely", "Running Scared", and many more of your favourites.
Connie Francis: Canada's tribute queen Amberley Beatty returns to the stage with an incredible performance paying tribute to American pop singing icon, Connie Francis. Idolized by millions of fans around the world, Francis is best known for her hits such as "Where the Boys Are", "Whose Sorry Now", "You're Cheatin' Heart", "Stupid Cupid", and "Lipstick on Your Collar".
Jerry Lee Lewis: Influenced by the mid century birth of Rock & Roll era of the 1950's and 60's, Wimberley, Texas born Lance Lipinsky preserves the timeless tradition of American Roots music as a songwriter and as an entertainer with show stopping boogie woogie piano antics. Lance has appeared on both the David Letterman Show and at the Ryman Auditorium in Nashville, TN. He has also performed in over 2500 action packed shows for five years at the Apollo Theatre in the TONY award winning Broadway musical "Million Dollar Quartet".