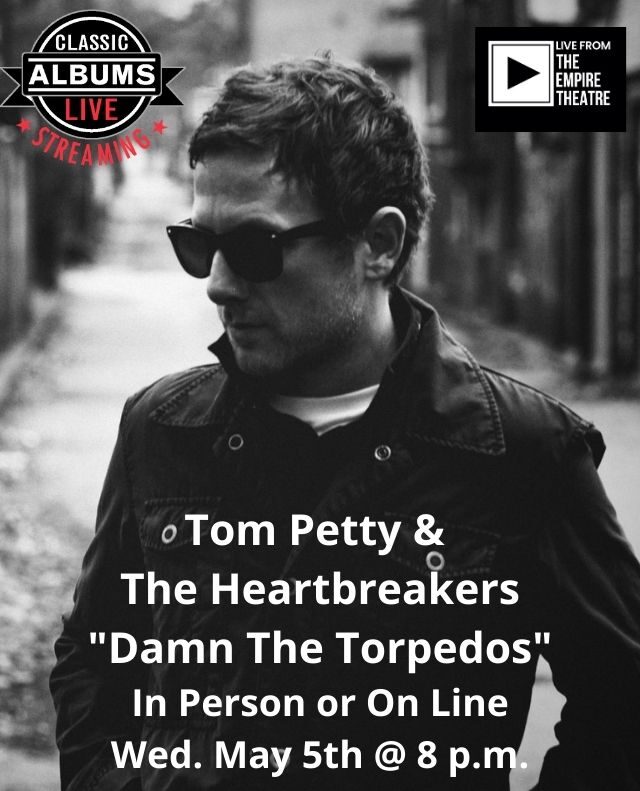 On Stage / Live Stream
Classic Albums Live – Tom Petty & The Heartbreakers….Damn The Torpedos
New Date To Be Announced Soon!
May 5 - 8:00 PM
Due to latest covid lockdown restrictions this show is in the process of being re-scheduled.
Watch Stream
---
Due to the updated COVID lockdown restrictions imposed in Ontario, Classic Albums Live's performance of Tom Petty & The Heartbreakers "Damn The Torpedos" concert is in the process of being re-scheduled … date to be announced soon!
---
Please note:  If you are a ticket holder for the original 2020 Damn The Torpedos concert, it is still in a postponed status.  Those tickets are not valid for this particular performance due to distancing regulations in accordance with  COVID restrictions.  Please contact the box office for further information at 613-969-0099 ext. 1, Monday to Friday 11 a.m. to 4 p.m.
---
Tom Petty & The Heatbreakers…Damn The Torpedos
Released in 1979…this album propelled Tom Petty and The Heartbreakers into super stardom!
Considered by both fans and critics alike to be perhaps his finest hour!
Classic Albums live will perform note for note & cut for cut the entire album, which features iconic songs: "Refugee", "Don't Do Me Like That", "Here Comes My Girl"," Even the Losers", "Century City"…and many others!
---
IN PERSON
THIS SHOW HAS A LIMIT OF 50 TICKETS
TICKETS ARE AVAILABLE ON LINE IN PAIRS ONLY
IF YOU WISH TO PURCHASE A SINGLE TICKET OR LARGER GROUP OF TICKETS PLEASE CALL THE BOX OFFICE AT 613-969-0099 Ext. 1 BETWEEN 11AM-1PM MON – FRI.
PLEASE NOTE: FACE MASKS ARE REQUIRED TO ATTEND THE SHOW. SEATING IS ARRANGED TO ACCOMMODATE FOR SOCIAL DISTANCING. DO NOT ATTEND IF YOU ARE FEELING UNWELL OR HAVE BEEN IN CONTACT WITH SOMEONE WHO HAS TESTED POSITIVE FOR COVID-19.
---
ON LINE
Supporting Musicians, Crews, Venue. Donations greatly appreciated.
If You Are Able, Hit The TIP JAR:
Canada/US/International
Canada E-Transfer
[email protected]
By Phone:
11am-1pm Mon-Fri
1-613-969-0099