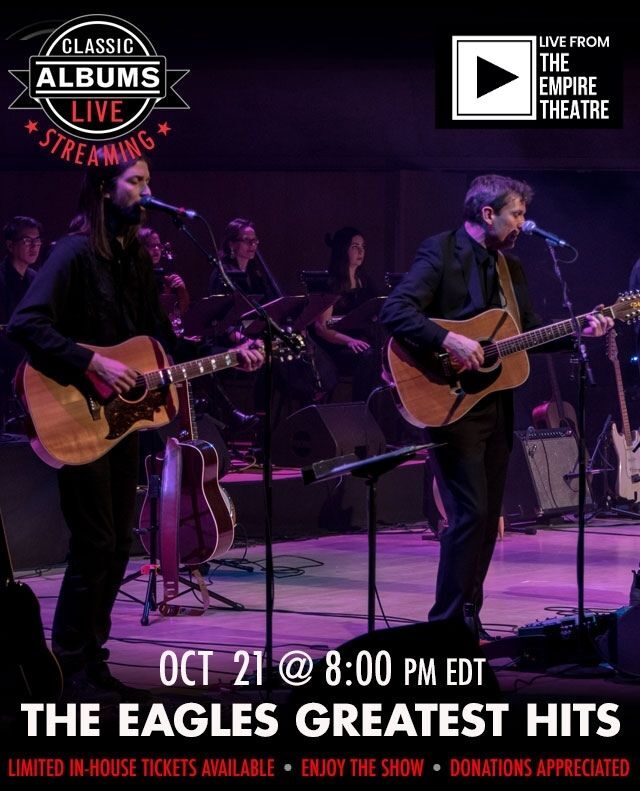 On Stage / Rock
Classic Albums Live – The Eagles Greatest Hits (1971-1975)
Live Stream Concert TONIGHT @ 8 p.m.
October 21 - 8:00 PM
Watch LIVE In Person (Limit 50 tickets, in pairs only. Larger group please call the box office Mon-Fri 613-969-0099 ext. 1) or LIVE STREAM On Line
Watch Stream
---
Watch IN PERSON (Limit of 50 tickets)  or ON LINE
One the greatest selling, greatest hits packages in recording history! The sound of California Roots Rock…The beautiful harmonies and iconic songs that dominate the airways to this very day. From Take it Easy" to "Desperado",to "One of the Nights" to "Best Of My Love"…just like your first heard them!
Note for Note & Cut for Cut
THIS SHOW HAS A LIMIT OF 50 TICKETS
TICKETS ARE AVAILABLE ON LINE IN PAIRS ONLY
IF YOU WISH TO PURCHASE A SINGLE TICKET OR LARGER GROUP OF TICKETS PLEASE CALL THE BOX OFFICE AT 613-969-0099 Ext. 1 BETWEEN 11AM-1PM MON – FRI.
PLEASE NOTE: FACE MASKS ARE REQUIRED TO ATTEND THE SHOW. SEATING IS ARRANGED TO ACCOMMODATE FOR SOCIAL DISTANCING. DO NOT ATTEND IF YOU ARE FEELING UNWELL OR HAVE BEEN IN CONTACT WITH SOMEONE WHO HAS TESTED POSITIVE FOR COVID-19.