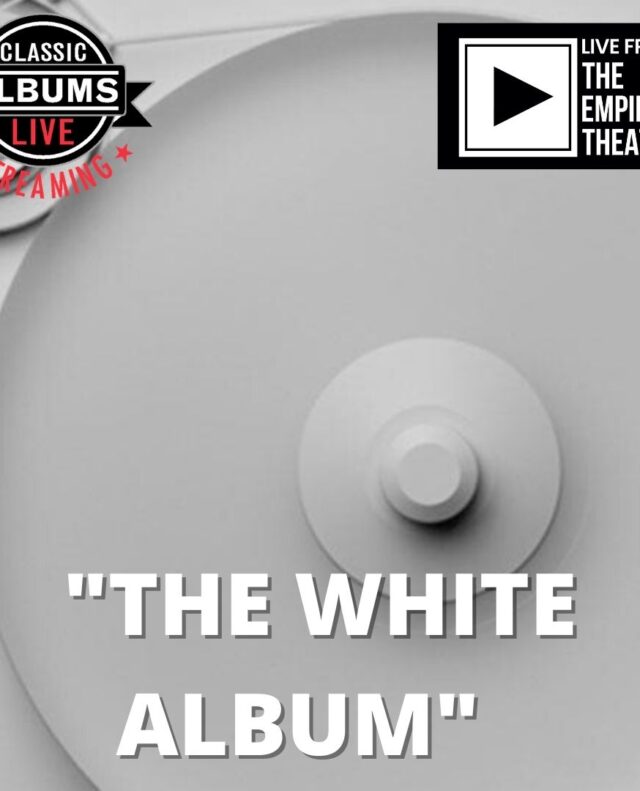 On Stage / Live Stream
Classic Albums Live – The Beatles' White Album
Live Stream Concert REPLAY until December 22nd
December 22 - 8:00 PM
Watch ON LINE
Watch Stream
---
THE BEATLES, universally recognized as "THE WHITE ALBUM": was born in 1968, as a result of the band's spiritual quest in Rishikesh India, and resulting fall out…This epic double album also introduces the four individuals, as very separate composers & personalities. Ranging from gritty rock & roll…to beautiful and tender acoustic songs, of love & longing, to comical pub-like sing-a-longs…to full on savage rock…the likes of, never heard before!
And, how does one even begin to describe Revolution #9?
From "Back In The USSR" & "Dear Prudence" to "While My Guitar Gently Weeps" & "Black Bird", to "Julia" & "Helter Skelter"! This ladies & gents is The White Album!!!!
Performed by Classic Albums Live. Note for note. Cut for cut.
---
IN PERSON
THIS SHOW HAS A LIMIT OF 50 TICKETS
TICKETS ARE AVAILABLE ON LINE IN PAIRS ONLY
IF YOU WISH TO PURCHASE A SINGLE TICKET OR LARGER GROUP OF TICKETS PLEASE CALL THE BOX OFFICE AT 613-969-0099 Ext. 1 BETWEEN 11AM-1PM MON – FRI.
PLEASE NOTE: FACE MASKS ARE REQUIRED TO ATTEND THE SHOW. SEATING IS ARRANGED TO ACCOMMODATE FOR SOCIAL DISTANCING. DO NOT ATTEND IF YOU ARE FEELING UNWELL OR HAVE BEEN IN CONTACT WITH SOMEONE WHO HAS TESTED POSITIVE FOR COVID-19.
---
ON LINE
Supporting Musicians, Crews, Venue. Donations greatly appreciated.
If You Are Able, Hit The TIP JAR:
Canada/US/International
Canada E-Transfer
[email protected]
By Phone:
11am-1pm Mon-Fri
1-613-969-0099