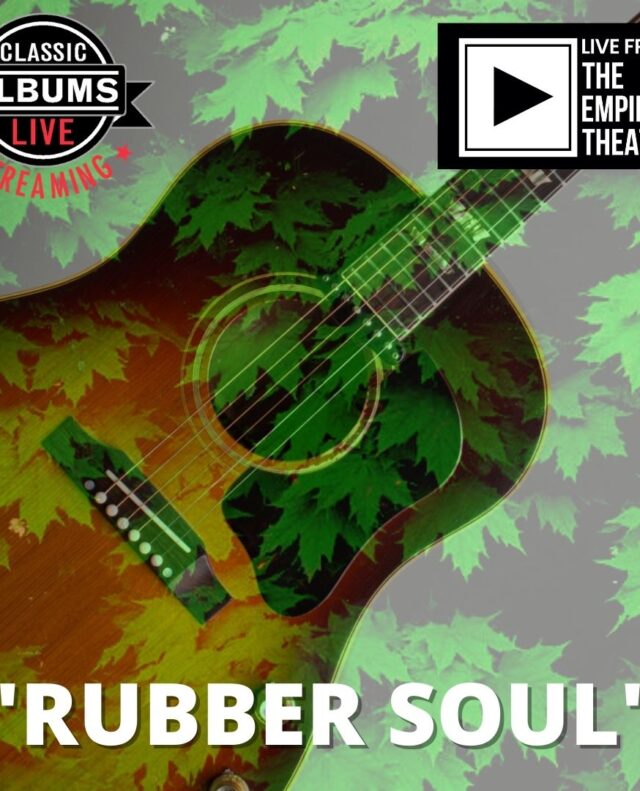 On Stage / Live Stream
Classic Albums Live – The Beatles' Rubber Soul
Live Stream Concert REPLAY until December 15th
December 15 - 8:00 PM
Live Stream ON LINE replay
Watch Stream
---
Classic Albums perform Rubber Soul. Note for note. Cut for cut.
RUBBER SOUL…released in 1965…The Beatles were growing up, and embracing adult themes…No longer the band that wanted to hold your hand…they were now singing songs of reflection, emotional conflict, and mature love…Wrapped in acoustic guitars, they also were mixing in unique instruments, from the exotic sitar to a funky fuzz bass!
From "In My Life" to "Norwegian Wood" and from " Michelle", "You Wont See Me" & "Nowhere Man", to "Think For Yourself" & "Drive My Car"…there would be no stopping The Beatles, from this album forward!
---
IN PERSON
THIS SHOW HAS A LIMIT OF 50 TICKETS
TICKETS ARE AVAILABLE ON LINE IN PAIRS ONLY
IF YOU WISH TO PURCHASE A SINGLE TICKET OR LARGER GROUP OF TICKETS PLEASE CALL THE BOX OFFICE AT 613-969-0099 Ext. 1 BETWEEN 11AM-1PM MON – FRI.
PLEASE NOTE: FACE MASKS ARE REQUIRED TO ATTEND THE SHOW. SEATING IS ARRANGED TO ACCOMMODATE FOR SOCIAL DISTANCING. DO NOT ATTEND IF YOU ARE FEELING UNWELL OR HAVE BEEN IN CONTACT WITH SOMEONE WHO HAS TESTED POSITIVE FOR COVID-19.

---
ON LINE
Supporting Musicians, Crews, Venue. Donations greatly appreciated.
If You Are Able, Hit The TIP JAR:
Canada/US/International
Canada E-Transfer
[email protected]
By Phone:
11am-1pm Mon-Fri
1-613-969-0099
---