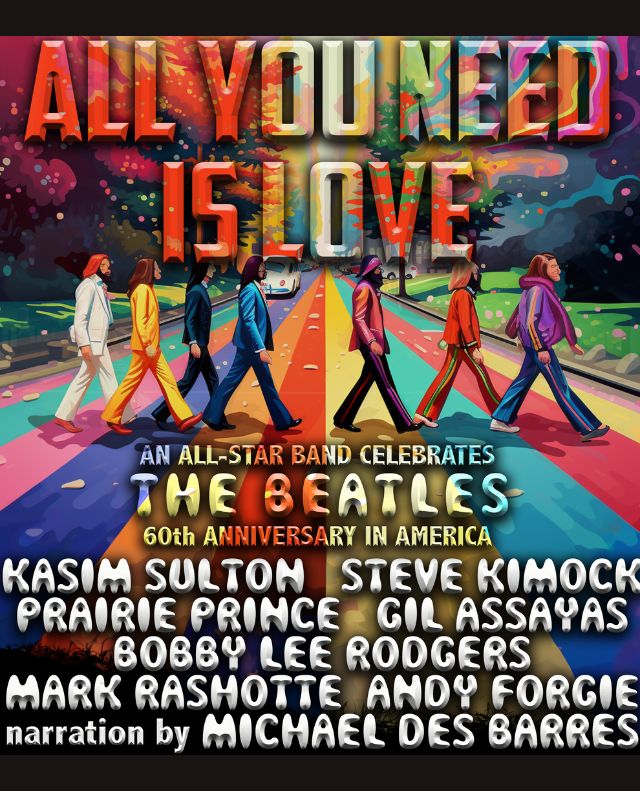 On Stage / Rock
"All You Need Is Love": Celebrating The Beatles 60th Anniversary In America
January 6 - 7:30 PM
$50.00 + taxes and fees
Buy Tickets
---
The Empire Theatre is proud to present, the Kick Off of The 2024 North American Tour:
"ALL YOU NEED IS LOVE" Celebrating The 60th Anniversary of The Beatles Coming To America
Featuring An All-Star Band of Internationally Acclaimed Musicians: Noted For Performing With Todd Rundgren, Utopia, The Tubes, Jefferson Starship, Bob Weir & Phil Lesh, and Jake Clemons, just to mention a few!
Come Together for a re-Imagining of Beatles Classics, complete wiith a mind-blowing visual presentation featuring on-screen narration by Michael Des Barres (from Little Steven's Underground Garage, The Mistakes, Power Station, Detective, Silverhead))
This "Fab"-ulous group of acclaimed musicians includes:
●  Kasim Sulton – Vocals, Bass, Guitar (Meatloaf, Todd Rundgren's Utopia, Blue Oyster Cult, Hall & Oates, Cheap Trick, Cyndi Lauper, Patty Smyth, Joan Jett)
●  Steve Kimock – Guitar, Bass (Zero, Oteil & Friends, Jazz Is Dead, The Other Ones, RatDog, Rhythm Devils, Phil Lesh & Friends, Kingfish, Heart of Gold Band)
●  Prairie Prince – Drums (The Tubes, Journey, Todd Rundgren, Blue Floyd, Jefferson Starship, Phil Lesh & Friends, XTC, George Harrison, Chris Isaak)
●  Bobby Lee Rodgers – Vocals, Guitar, Banjo, Sitar Simulation (Jazz is Dead, The Codetalkers with Col. Bruce Hampton, Vassar Clements, Warren Haynes, Widespread Panic, George Porter Jr.)
●  Gil Assayas – Vocals, Keyboard (Kasim Sulton's Utopia, Todd Rundgren's Utopia)
●  Mark Rashotte – Guitar (Jake Clemons, Creed, Photograph)
●  Andy Forgie – Vocals, Theatrics (Creed, Photograph)
…Love Is All You Need!
*Please Note:  *ALL SALES ARE FINAL – Refunds and Exchanges are not permitted.