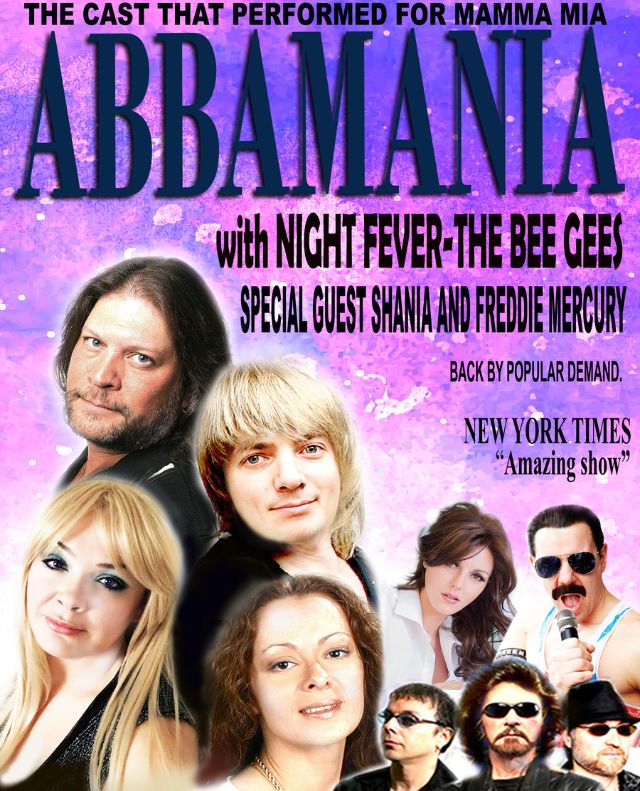 On Stage / Pop
Abbamania and Bee Gees Night Fever + special guest
February 9 - 7:30 PM
$45.50 + taxes and fees
Buy Tickets
---
Abbamania, an all Canadian cast, is the world's number one production of Abba. The show consists of a remarkable live band that consists of studio musicians with violins and The Chicago Transit Horn section. With amazing vocals, look, sound and authentic costumes, you will believe you are watching the original Abba. They are the only Abba production to perform for Mama Mia. Hear the hits from "Waterloo, S.O.S to Dancing Queen". Each song done note for note exactly like the record.
Also, on the same show is Night Fever as the Bee Gees. With all the high harmonies and stage presence of the Bee Gees, they will be performing songs from "Jive Talking, To Love Somebody, Stayin'Alive to You Should Be Dancing" plus many more. Abbamania and Night Fever have been performing for the past 16 years with over 200 concerts a year. Go back in time when Abba and The Bee Gees ruled the pop music world. Special guest The Freddie Mercury Show. Hear the hits of Queen. Three amazing acts on one show.
New York Times – An Amazing Show!!!!
*Please Note:  *ALL SALES ARE FINAL – Refunds and Exchanges are not permitted.